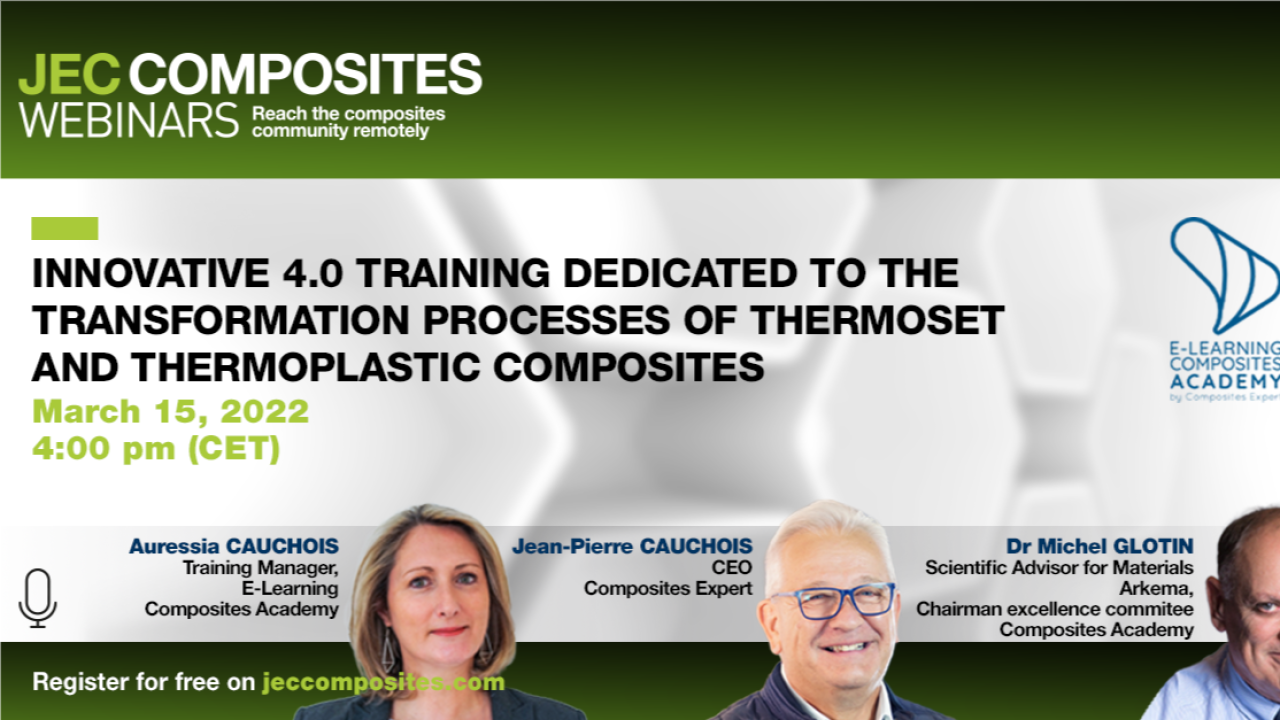 Webinair with Jec Group
Register for the webinar here

Infos
Discover the innovative and cognitive 4.0 concept of the " E-Learning Composites Academy " training.
In order to approach the learning and mastery of thermoset and thermoplastic materials in a simple and structured way, a new pedagogical approach aimed at appropriating
knowledge of polymer transformation has been specially developed by Composites Expert.
Tools have been designed to combine the theoretical part (E-Learning course platform) and the practical part (BOXs, software, process simulator, exercises through manipulation) to observe complex phenomena, with the aim of mastering and optimising transformation processes.
The aim of this presentation is to introduce you to the learning method and the interactivity of the teaching aids used in industry and education.
The objective for participants will be to discover a unique form of learning highlighting cutting-edge technologies and for Composites Expert to gain commercial exposure to an international audience.
Please join us in sharing the first Composites Academy Webinar.
Speakers
Auressia CAUCHOIS
Training Manager, E-Learning composites Academy
After 25 years in management positions within the Louvre Hotels group, she joined COMPOSITES EXPERT in 2019 to take up the position of Training Director and to assume the administrative, commercial and managerial functions of the "E-LEARNING COMPOSITES ACADEMY".
Jean-Pierre CAUCHOIS
CEO, Composites Expert
Plastics engineer, he was director of a technical centre for more than 30 years and has carried out more than 600 technology transfers throughout the world, specialising in the transformation processes of composite materials. He is the author of several technical books and expert software. He is a legal expert at the Paris Court of Appeal and is launching the start-up Composites Expert in 2019 with its commercial brand "E-LEARNING COMPOSITES ACADEMY".
Dr Michel GLOTIN
Scientific Advisor for Materials – Arkema, Chairman excellence commitee Composites academy
After an international scientific cursus. Michel Joined ATO-CHIMIE (Now ARKEMA) in 1982 and held successive positions as Researcher on high performance Polymers, Head of the Materials Research Laboratory in Arkema's Specialty Polymers Research Center, Director Materials Science –ARKEMA (2006-2019), Advisor Materials Science- Arkema (since 2019 in parallel with partial retirement). In recent years, his interest has focused on the recyclability of composite materials in all fields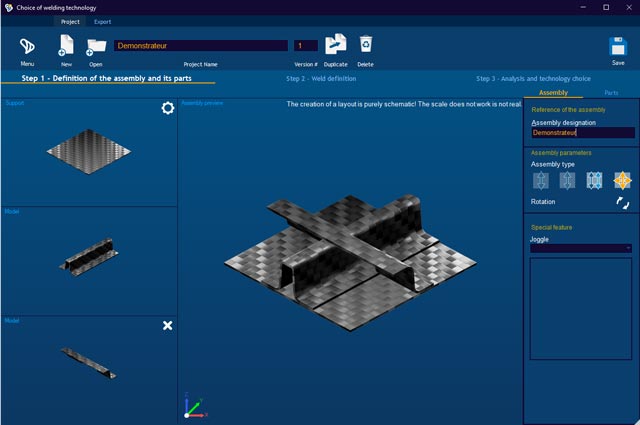 Educational innovation in Thermoplastic Composite Welding
World premiere: 4.0 training on welding technologies for thermoplastic composites! A playful theory, combined with a simulator that objectively indicates the most suitable technological solutions. The advantages and limits of each process are defined according to the geometric constraints of the parts and the materials to be welded. Training adapted and recommended for the Aeronautical and Automotive fields.

15 March 2023

Share